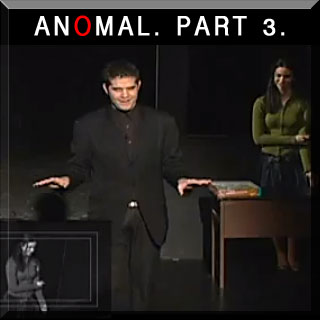 In the video The Mentalist off-Broadway show "Anomal" – Part 3 the great mentalist performer Mr. Ehud Segev "The Mentalizer" is going to amaze the people with his beautiful stories.
(parts of comments written by viewers:)
After a performance gets to an end, Ehud Segev starts a one man show, he is pretending as there is no one seeing him and he takes a little "live break" till he continues the show. Then the mentalist Ehud Segev calls his friend or director to ask something. Here are some beautiful words spoken by Mr. Ehud to Michael. "ok few minutes before the next show, let's call Michael, we can still change that name as he can just get new flyers printed, get new posters out … , hi Michael, how are you? this is Ehud Segev, the Mentalizer yeah, tell me Michael why did you choose that name Anomal,…. Yeah the Mentalizer, Ehud.., Ehud Segev? Michael how many performances you work with???"
In this video The Mentalist of Broadway show "Anomal" part-3 there is also a beautiful parody performance as the mentalist/mentalizer Mr. Ehud Segev shares a part of his life when he was in Israel and when he went to watch a show with his family and he meets with someone who offers to sell him his future. You will enjoy the whole pace of the video only when you will watch this for yourself. I can assure you that this is a really terrific performance from the mentalist Ehud Segev.
In this video Segev says that his father never believed in him but his mother always believed in him and supported him to reach at this stage. Few words from the end of this video. Ehud Segev tells what his father was thinking about him, "Ehud, no matter how much nonsense you are going to do in your life don't expect me to accept this nonsense," watch the Mentalist off-Broadway show "Anomal" – Part 3 or the whole show Anomal and you will enjoy the beauty of the life with The "Mentalizer".
Mentalist and corporate event entertainer, Ehud Segev the Mentalizer, Performs "ANOMAL – A Supernatural Play" off-Broadway in Times Square, New York City, NY

The Mentalist and corporate events entertainer Ehud Segev performing live in Times Square.The American Theatre of Actors in New York City, NY.