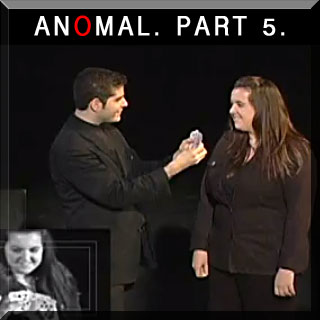 In the video "the Mentalist off-Broadway show "Anomal" – Part 5 the great mentalist performer Mr. Ehud Segev performs one of the best mentalist performances. As in the end of video "The Mentalist off-Broadway show "Anomal" – Part 4" Mr. Ehud Segev invites a lady on stage – in this video he asks the young lady to choose a card in her mind and then simply look into the Mentalizer's eyes. Here we share a beautiful dialog between mentaist Ehud Segev and the lady. "Ok it is heart, yeah it is, can you name the number, wait, wait you are thinking about about a letter, a letter card, and ok I am reading keep watching in my eyes". And than he names a card and the lady has nothing to say but be amazed.
(parts of comments written by viewers:)
Now Ehud Segev is giving another surprise to his viewers, he asks the girl to cut the cards, she cutted it and when the great performer Ehud Segev asks the lady to take the card and the card was, what she was thinking. For the next performance the Mentalist/Mentalizer Mr. Ehud Segev invites a man named James, and a girl Laura. Mentalizer names the man as Laura and girl as James and say to man (now Laura) that he is going to touch James (the girl) and she (actually James) has to read where Ehud touches her, and now Ehud touches the girl (James) on his nose and the James guess alright, now he touches her forehead and her chin and the Laura (actually James) guess the right position. On this performance the spectators are really enjoyed and pleased with the great performer Mr. Ehud Segev.
Now the chit chat begins and the viewers are amazed with the beautiful performance of Ehud Segev as one man show.
The Mentalist and corporate events entertainer Ehud Segev performing live in Times Square.The American Theatre of Actors in New York City, NY.