Knowing how to properly express your body language to improve your interaction or relationship with the people around you is important.
At the same time, it is equally paramount that you know how to identify the meaning behind people's behavior. Being aware of the different body languages that people exhibit and the meaning they convey can make a big difference when it comes to establishing rapport. Here are a few gestures that you should learn how to effectively utilize and be able to spot:
Handshakes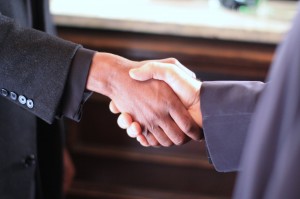 A lot of people tend to take this gesture for granted when in fact they should learn to express this behavior more, especially towards those whom they just met. Learning when to apply handshakes is vital in building rapport, especially with potential business partners. Handshakes are a sign of good will and this definitely gives a positive impression on the recipient of the handshake.
Standing Up
You cannot expect people to respect or have confidence in you if your posture does not show it. Stand tall with your chin raised upward and having a square back. This also includes standing with your feet apart as oppose to being together which shows a sign of lack of self confidence.
Uncrossed Arms
When interacting with a person, crossing your arms means that you are giving the impression that you are uncomfortable being with the person. Crossing arms is often interpreted as a sign of protecting oneself. Though people do it out of habit, crossing your arms give the impression that you are uncaring or agitated. By making a conscious effort of not crossing your arms especially if you are interacting with your business partner, you will be able to give the impression that you are the kind of person who is flexible.
No Gums
Throw away any gums if you have a meeting with potential business partners or if you have a date or an appointment with a professional. Chewing a gum while you are having a conversation with professionals give the impression is bad etiquette and unprofessional.
Eye Contact
Making eye contact with your audience is a very important body language. It means that you want to get their interest. At the same time, this helps get people's attention in which case helps to get your message across. Making eye contact with people means that you are confident but do not stare towards the same person for a very long period of time. When looking away, do it gradually and towards either left or right directions.
Being familiar and aware of the different body languages and learning how to best utilize them will surely improve your relations with other people.