Mind Meld With a Mentalist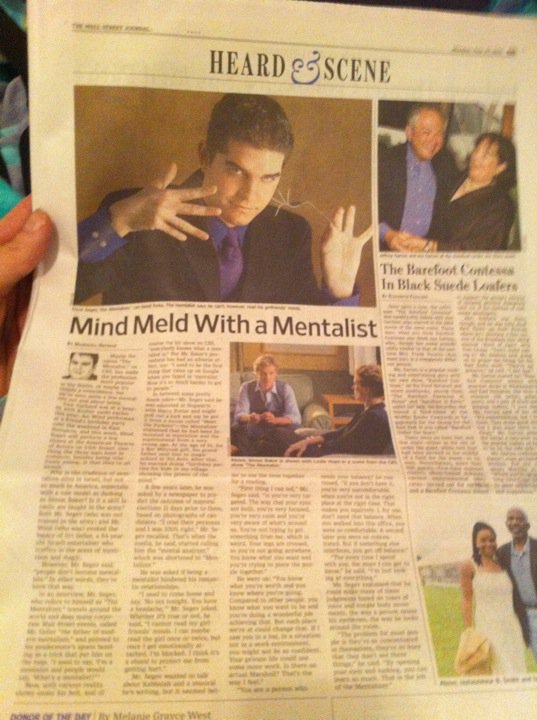 Maybe the series "The Mentalist," on CBS, has made the profession more popular in the States, or maybe it's simply a coincidence, but we've seen quite a few mentalists out and about lately.
Susherd was at a benefit with Kosher sushi earlier this year; Assi performed at a friend's birthday party over the weekend in East Hampton, and this week, Ehud Segev will perform a few shows at the American Theatre of Actors on 54th Street. One thing the three men have in common, besides being relatively young, is that they're all Israeli.
Why is the tradition of mentalism alive in Israel, but not so much in America, especially with a role model as dashing as Simon Baker? Is it a skill Israelis are taught in the army? Both Mr. Segev (who was not trained in the army) and Mr. Wind (who was) evoked the legacy of Uri Geller, a 64-year-old Israeli entertainer who traffics in the areas of mysticism and magic.
However, Mr. Segev said, "people don't become mentalists." In other words, they're born that way.
In an interview, Mr. Segev, who refers to himself as "The Mentalizer," travels around the world and does many corporate Wall Street events, called Mr. Geller "the father of modern mentalism," and pointed to Mr. Geller's spoon bending as a trick that put him on the map. "I used to say, 'I'm a mentalist and people would say, 'What's a mentalist?'"
Now, with various reality shows under his belt, and of course the hit show on CBS, "everybody knows what a mentalist is." But Mr. Baker's procedural has had an adverse effect, too: "I used to be the first thing that came up on Google when you typed in 'mentalist.' Now it's so much harder to get to people."
In between some jokes—Mr. Segev said he was educated at Hogwarts with Harry Potter and might pull out a fork and say he got it from a movie called "Meet the Forkers"—the Mentalizer explained that he had been interested in mysticism and the supernatural from a very young age. At the age of 12, for a Bar Mitzvah gift, his grandfather sent him to magic school in Tel Aviv. After that, he started doing "birthday parties for kids in my village showing the power of the mind."
A few years later, he was asked by a newspaper to predict the outcome of mayoral elections 11 days prior to them, based on photographs of candidates. "I read their personas and I was 100% right," Mr. Segev recalled. That's when the media, he said, started calling him the "mental analyzer," which was shortened to "Mentalizer."
He was asked if being a mentalist hindered his romantic relationships.
"I used to come home and say, 'No sex tonight. You have a headache,'" Mr. Segev joked. Whether it's true or not, he said, "I cannot read my girlfriends' minds. I can maybe read the girl once or twice, but once I get emotionally attached, I'm blocked. I think it's a shield to protect me from getting hurt."
Mr. Segev wanted to talk about Kabbalah and a musical he's writing, but it seemed better to use the time together for a reading.
"First thing I can tell," Mr. Segev said, "is you're very targeted. The way that your eyes are built, you're very focused, you're very calm and you're very aware of what's around us. You're not trying to get something from me, which is weird. Your legs are crossed, so you're not going anywhere. You know what you want and you're trying to piece the puzzle together."
He went on: "You know what you're worth and you know where you're going. Compared to other people, you know what you want to be and you're doing a wonderful job achieving that. But each place we're at could change that. If I saw you in a bar, in a situation not in a work environment, you might not be as confident. Your private life could use some more work. Is there an actual Marshall? That's the way I feel."
"You are a person who needs your balance," he continued. "If you don't have it, you're very uncomfortable when you're not in the right place at the right time. That makes you squirrely. I, for one, don't need that balance. When you walked into this office, you were so comfortable. A second later you were so concentrated. But if something else interferes, you get off balance."
"The more time I spend with you, the more I can get to know," he said. "I'm just looking at everything."
Mr. Segev explained that he could make many of these judgments based on tones of voice and simple body movements, the way a person raises his eyebrows, the way he looks around the room.
"The problem for most people is they're so concentrated in themselves, they're so busy that they don't see these things," he said. "By opening your eyes and looking, you can learn so much. That is the job of the Mentalizer."
Write to Marshall Heyman at marshall.heyman@wsj.com
– READ THE ORIGINAL ARTICLE HERE