A new book by Ehud Segev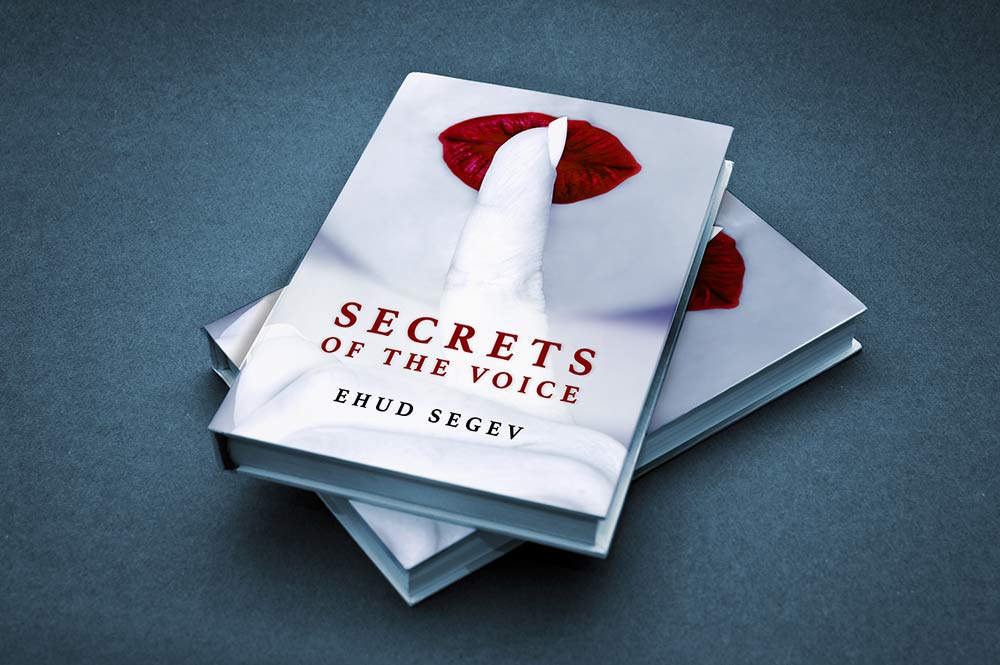 Written by world renowned mentalist Ehud Segev, "Secrets of the Voice" is the only book in the world that reveals the secret techniques that mentalists use to read people and influence others using nothing but the human voice. Updated: The book has been translated to

German

and

Russian

.
IMPORTANT

 NEWS: This book has become an Amazon #1 BESTSELLER in less than one week AND IT IS STILL #1 BESTSELLER! It has been a #1 bestseller since it was published in November 2013!
#1 Bestseller on Amazon November 2013
#1 Bestseller on Amazon December 2013
#1 Bestseller on Amazon January 2014
#1 Bestseller on Amazon February 2014
#1 Bestseller on Amazon March 2014
#1 Bestseller on Amazon April 2014
And still going… Thousands of happy readers can't be wrong!
Would you like to have the ability to "peer" inside people's minds and "read" their thoughts based on the sound of their voice? Do you want audiences to "hang on" to your every word with interest and attention? You can!
The voice is a powerful communication tool – if you know how to analyze it and use it effectively yourself. Secrets of the Voice is a compelling guide to five essential elements that, once mastered, will help you analyze the mindset of people around you, and use your own vocal skills to influence others.
Written by a world-renowned mentalist and bestselling author Ehud Segev, the book provides "insider" tips to discover people's true personalities through their speech patterns, as well as develop a strong and persuasive voice that will grab, engage, and inspire your listeners every time you speak.
NOW ON A 48 HOUR SALE! SAVE $14 BY CLICKING BELLOW!
(get the book for only $3.99 instead of the list price of $17.99)
[button_cart bg="atc-1.png" align="center" href="http://www.li2.org/sotv" new_window="Y"/]
Secrets of the Voice: Read People and Influence Others Using the Voice

Vocal skills and our voice is one of the most effective medium of communication through which we can share our thoughts, our likes, dislikes and our opinions with others. With the help of voice we also get to learn about other people's thinking and their views on certain issues. It helps us to connect with our peers, our family members, our friends and other people in the society. But do we have the ability to understand all the ideas and major thoughts that go around in the mind of the people while they speak. Does their voice reflect what they say or what they think? Are you able to interpret it properly?

Well many of us fail to do so. We fail to understand the true meaning of what an individual is trying to say, we fail to understand their thoughts. In order to guide us properly the new book "Secrets of the Voice: Read People and Influence Others Using the Voice" is launched by the well known author and world renowned mentalist, Ehud Segev.

The book gives you the idea and the ability to peep inside the mind of other people and read their actual thoughts that do not come out through their mouth. Based on the sound of the voice of the people with whom you are communicating you can learn about their thoughts. Mere voice, its tone and sound is required for you to understand the true meaning of their sentences.

Voice is a very powerful and effective medium of communication, and if you know how to analyze it and use it effectively t becomes even more important. "Secrets of the Voice" is a convincing guide for you. It helps you to learn five essential elements that if once mastered efficiently you can easily analyze the mindset if people around you. This also helps you to use your voice properly to influence others.

This book of 153 pages provides you inside tips to discover the true and real personalities of individuals through the patterns of their speech and tone. It also equips you with a strong and persuasive voice that can grab the attention of your listener every time you speak. It helps you to get the required attention from your listener and to influence them with your voice and enhance your personality.

Ehud Segev is a well known mentalist who is also known for his bestselling book "9 Steps to Influence". Through his book, Segev provides entertainment as well as deep knowledge and understanding about human psychology and behavior that helps us in our everyday life somehow or the other. 
NOW ON A 48 HOUR SALE! SAVE $14 BY CLICKING BELLOW!
(get the book for only $3.99 instead of the list price of $17.99)
[button_cart bg="atc-1.png" align="center" href="http://www.li2.org/sotv" new_window="Y"/]
REVIEWS From AMAZON.COM:
✭✭✭✭✭

Powerful and Practical
By Mollie Skilss

This book is packed with information that is useful. The author outdid himself with revealing the "secrets of the voice." The videos generously embedded in the text to illustrate his points are phenomenal. It is a treat to listen and see Martin Luther King Jr. deliver his "I Have a Dream" speech along with listening to Robert Frost read his poetry and be educated by the "Man with a 100 Voices." This book reveals so much in an easy to learn approach. Incredible.

✭✭✭✭✭

This book impresses from start to finish
By L. Williams

This book is yet another by the author that is quite good. It basically covers, in detail, every aspect of…I guess you would call them the submodalities of speech and how to use that to analyze other peoples speech and how to use them in your speech to convey your message most effectively. I have read books on this topic before, some in the NLP arena, but this book give clear explanations and plenty of examples to help you solidify the message and he presents the ideas in a unique / memorable way. Would definitely recommend this book to anyone!

✭✭✭✭✭

Another FANTASTIC book from Ehud Segev
By em1048

Another brilliant book by Ehud Segev!
If you want to know everything about learning to read people just from their voice then 'Secrets of the voice' is definitely for you.
You learn all about how; tone, pitch, pace, volume and rhythm basically enabling you to pick up hidden emotions and secret feelings that others won't.
It's all here in short, easy to process chapters along with relatable examples and some brilliant videos that help you further your learning.
As-well as being a brilliant educational read that you should certainly look at if you're even the slightest bit interested in how you can read people just from listening to them speak it is also very entertaining and a great thing to impress friends with, as-well as helping you make the right impressions and understand other people at a deeper level that most might not.
Go and read this it is definitely worth it!

✭✭✭✭✭

Review for Secrets of the Voice: Read People & Influence Others Using the Voice
By Davon Wheeler

The book was so great at explaining how to read and influence people by applying certain concepts when using our voice.

Segev is great at explaining away all the nuts and bolts of how you can use your voice to change how you are perceived only a daily basis. One story Segev tells within the book of how he help this one woman who because of her voice would come off as very "annoying" therefore people would ignore what she had to say as a result. However after applying some of Segev's tactics she would give of an entirely different perception of herself making her very more approachable and have a more attractive personality.

All in all if you in any way are interested in having becoming skilled at not only influencing people but having a more approachable and interesting personality GET THIS BOOK, it is more than worth it's weight in gold.

✭✭✭✭✭

Use the Power of Your Voice to Influence and Persuade Yourself & Others. "The sound of your voice speaks volumes about you."
By Paul (Needham, MA, United States)

Use the Power of Your Voice to Influence and Persuade Yourself & Others.
"The sound of your voice speaks volumes about you."
This amazing book with teach you how to become more effective in your speech to influence or persuade others to your way of thinking, and to "read" the thoughts & emotions of others and recognize the moods behind their words.

Using the 5 simple, but powerful traits of human speech to monitor your own voice, as well as, analyze the voice of others.

You will learn how to:
Become a human lie detector.
Pick up on the secret thoughts & hidden agendas of others
See how the behaviors and actions of yourself and others speak louder that words.
Learn communication skills as you practice using the quality of your voice to become a more effective parent, salesperson, or public speaker to subtly and gently influence others or powerfully demand attention.

I highly recommend that you get this book TODAY to use the POWER of your VOICE to CHANGE YOUR LIFE and the lives of OTHERS for the BETTER.

✭✭✭✭✭

What a wonderful book.
By Melvin

The secrets of the voice was a very exciting book too read. Being able to understand the traits of the voice to help my personal performance in communicating. While also understanding the mood of other people. I applaud Ehud Segev for writing this book. Another part of the book i love was the examples he gave in the links. Being able to watch a quick clip online to understand the message he is trying to show. Connecting these example to the understating pace,pitch,tone,volume,and rhythm. I can say i got instantly hooked when i started reading this book.

✭✭✭✭✭

Lend an ear
By Raj

It's Ehud and he is just awesome ….. His work in the form of this book displays his level of understanding of every aspect of human psychology 🙂

✭✭✭✭✭

Good excercises, and video examples
By Thomas Sharp

The examples in this book were pretty interesting. In fact i would say that they were the most important part of the book, you can't just read about this stuff, you have to hear it while you're going along

✭✭✭✭✭

WOW!!!!!!!!! So Interesting!
By Amazon Customer

Very interesting, have read it three times, understand more each time. Gives you through understanding of each chapter. Well written.

✭✭✭✭✭

Well written and entertaining!
By Dennis M. Kornegay (North Hollywood, CA USA)

Really enjoyed this one. Great ideas and writing. Enjoyed the videos and the context. After seeing Ehud live I was eager to check out his latest, and was not disappointed! Recommended!

✭✭✭✭✭

WOW… Great book!
By Helena Bachmann

Wonderful book, very interesting, informative, engaging, nicely illustrated with many examples and anecdotes, and SO WELL WRITTEN!!! Thanks, Ehud, for sharing your knowledge.

✭✭✭✭✭

I can read! (People…) 🙂
By Hezi

Loved it, Ehud. It is both inspiring and practical. I liked the ideas and they're so easy to implement too. Thank you for it!

✭✭✭✭✭

Woowww!!! Ehud segev!!! Amazing book!! Big like!!!, December 1, 2013
By Keren Maman  (New York, USA)

Ehud Segev outdid himself!!! After I enjoyed his first book, this second one reveals some of the best techniques and methods of people reading – using nothing but the voice. And the videos are a great addition to the content. Very well done!

✭✭✭✭✭

Speaking up for Secrets of the Voice (yes, pun intended)
By Carl Kissin

Secrets of the Voice is a terrific book that succeeds on several levels. It can be beneficial for self-evaluation of how one communicates, it can be useful for interpreting the communications of others – (since as Segev tells us, most communication is non-verbal), and above all, it is an interesting and informative read. Highly recommend.

✭✭✭✭✭

Great book.
By Amazon Customer

Very enlightening and educational. Needs to be read several times to get it all to sink in. I enjoy reading books that are different, that offer material off the beaten path, this was it.

✭✭✭✭✭

Fun read!
By Anonymouse

Enjoyable and entertaining, a fun and interesting read from a great character. Saw him Off-Broadway and it was great. Highly recommend if he's still doing it/does it again.

✭✭✭✭✭

A great learner and informative
By Saurabh Bothra (India)

The book has lot of content which can be implemented in real life very easily…..and has links to videos in between to give examples which is a very great thing…..

✭✭✭✭✭

Ehud Segev has done it again!

By Kim (Herzlia, Israel)

Ehud Segev has done it again! As in 9 steps to influence, he is again presenting an array of tools helpful in everday communications in every aspect of human relations, in a fluent, interesting and coherent manner.

✭✭✭✭✭

Highly recommended book!
By Robert Zukerman

Very well written book! Wisely simple, with many real life examples that give a good grasp of the topic.
Focusing on one element each chapter and providing great tools and exercises to master it increases the better understanding of the voice as a whole and takes us a step further into our own and others' comprehension.
Highly recommended!

✭✭✭✭✭

I cant wait until he publishes his next book
By Mike Cullingham

Fascinating book. great stuff. i cant wait until he publishes another one. It is so well written and insightful i have started to use what he teaches.

✭✭✭✭✭

Wonderful!
By Madhav Gupta

Great Book.
I want to thanks Ehud for sharing such secrets with us in his book.
Lessons are inspiring and can change the life on anybody.
THanks again Ehud sir

✭✭✭✭✭

So cool! And informative!
By Kaikai Camilleri

For everyone. Must read. This is a wonderful and dimple guide that will turn every person into a mini mindreader! Really cool stuff and simple to understand for everyone!!!! If you'd like to know what people actually mean when talking to you, read this book. You'll never listen to people the same way again !!!

✭✭✭✭✭

Great introduction to knowledge not available anywhere!
By K. Cowell

I loved reading every page of this book. Was looking for information about analyzing the human voice and it was nowhere to be found. Segev is the first one to take this subject seriously and give us, the readers, a wonderful insight about how to analyze people's voice in order to understand the meaning behind them!

✭✭✭✭✭

Interesting, practical and easy to read
By Ariel Darrull

It's an easy-to-read and practical book.
You can find great videos explaining key points.
I found the examples and stories very interesting and added value to the learning experience.

✭✭✭✭✭

Really enjoyed this!
By Melanie Forrester

Well written & the video clips really made this fun & easy to understand!! Would LOVE to see a game app (kind of whodunit/did they do it? Style) with explanation like the news clip (would be a great practice tool) 😉

✭✭✭✭✭

FABULOUS BOOK!
By Nicole Wilson "Health Gnut" (New York, NY)

I absolutely could not get enough of this book!! I read it cover to cover as quick as I've read anything, I could not get enough and I loved the humor of Ehud Segev which was on every page. He gives many useful tips that you can start using today, he makes it easy to understand and I found myself laughing out loud as I read it.

I am recommending this book to friends and already bought 3 copies for gifts for my sister, my boyfriend and my best friend! I would highly recommend this book to anyone looking to learn to read people better:)

✭✭✭✭✭

Help yourself first
By Meche Kroop (New York City)

The book is full of useful scientific info in language that is easy to understand. Anyone can profit from reading it and applying the lessons.

✭✭✭✭✭

Excellent speaking techniques with the written words.
By Lightbeam

The writer delivers the message as if he is familiar to me. He sounds as if he is my next door neighbor conveying to me the all important "The art of speech" from inflection to posture in all the relevant details for effective result.

✭✭✭✭✭

Excellent Advice
By Kara J. (New York)

A lot of weight is given to the importance of body language in interpersonal communications, but what does your voice communicate about you? Secrets of the Voice: Read People & Influence Others Using the Voice provides logical and clear direction to use your voice to effect how others perceive you and understand the hidden meanings of what others are trying to tell you. This book contains great tips to develop a strong persuasive voice simply by changing the pace, pitch, tone, volume and rhythm of your voice. In addition to the great information provided in this book, it also includes videos embedded into the book so you can really see and hear the techniques in action. This is an excellent book for someone who is in a leadership role at work or anyone that wants to inspire and engage an audience.
NOW ON A 48 HOUR SALE! SAVE $14 BY CLICKING BELLOW!
(get the book for only $3.99 instead of the list price of $17.99)
[button_cart bg="atc-1.png" align="center" href="http://www.li2.org/sotv" new_window="Y"/]